UNIR and the OEI Consolidate their Alliance to Train Ibero- American Educators in Digital Competences
09 / 07 / 2020
This collaboration between the Organization of Ibero-American States continues the more than 1,000 scholarships that both organizations awarded to university professors in all member countries during the pandemic.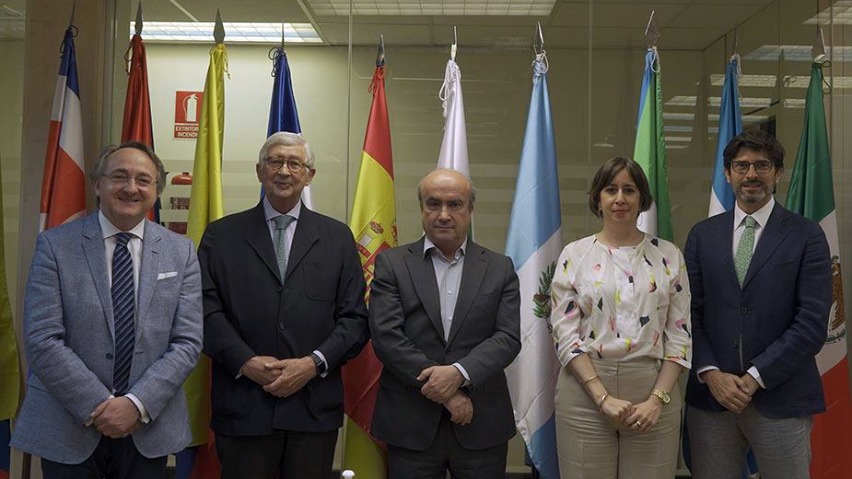 Today the International University of La Rioja (UNIR) and the Organization of Latin American States (OEI) presented a partnership that will enable hundreds of Latin American teachers to train in the digital skills currently required by teaching, starting in October.
The program consists of two courses, one on Teaching Online and the other about Creating Digital Content, which will be imparted by UNIR to educators in all Latin American higher education institutions that are changing to hybrid education models at this time.
This initiative continues the more than 1,000 scholarships that were awarded to Latin American university professors to complete UNIR's Specialized Level Teachers course. This training prepares educators to use the most effective digital tools and didactic methodologies for online education.
Digital Transformation
With this agreement, both institutions want to offer their help and experience to the Latin American education community to achieve one of their biggest goals: digital transformation. UNIR and the OEI will collaborate to offer training to teachers adapting to the requirements of a bimodal higher education that combines both in-person and online teaching.
Ana Capilla (the OEI's Coordinator of Higher Education, Technical and Professional Education and Training, and Science), Manuel Herrera (UNIR's Director of International Relations), and Gabriel García-Prieto (UNIR Ecuador's Corporate Director) all participated in the presentation today. Rafael Puyol (President of UNIR) and Mariano Jabonero (General Director of the OEI) also taught a seminar titles "Towards Bimodal Higher Education: The Challenge of Teacher Training".
Ana Capilla, Coordinator of Higher Education, Technical and Professional Education and Training, and Science for the OEI, confirmed that the initiative "is part of the OEI's efforts to make the necessary resources available to Latin American countries so that they can respond in the best possible way to the consequences that the pandemic is having on our educational systems, as well as on science and culture."
For Manuel Herrera, Director of International Relations for UNIR, "COVID-19 has made online training move from a necessity to emergency." He noted that since the beginning of the pandemic, UNIR has trained more than 5,000 Latin American university teachers in digital skills.
"We want this alliance between UNIR and the OEI to be a useful and quality tool to face the challenges of online training, which allows us to correct social inequalities by betting on the educational inclusion of people and groups that would otherwise be excluded," Herrera said.
Training and Support
Gabriel García-Prieto, Corporate Director for UNIR Ecuador, indicated that, "with the support of the OEI, we want UNIR's virtual classrooms to become a tool for training and support for Latin American higher education systems. The online Teacher Training and Digital Content Development and Design programs are taught by professors who are experts in online education at UNIR".
Rafael Puyol, President of UNIR, and Mariano Jabonero, General Director of the OEI, addressed the role of new technologies as tools and the new role of teachers in a world where virtual and classroom teaching must be coordinated.
For Professor Puyol, "new technologies offer great opportunities for educational renewal, but you need to know what to do with them. This is the fundamental task of the teacher who, as in the classroom, is the basic figure of online teaching. Hybrid training will require hybrid teachers who possess the necessary pedagogical resources to develop the two ways of teaching competently."
Professor Jabonero explained that "the OEI's higher education program pays special attention to remote education, whose enrollment has grown by 73% in Latin America in the last decade."
He highlighted how the OEI Latin American Guide to the Assessment of the Quality of Remote Education creates common quality standards that agencies in the region are using to evaluate this type of teaching. "At the OEI, we will continue to work with allies like UNIR to provide teachers with the training and tools necessary to provide quality remote education," Jabonero added.
As a result of the alliance between UNIR and the OEI, professors from universities in Argentina, Bolivia, Brazil, Chile, Colombia, Costa Rica, Ecuador, El Salvador, Spain, Guatemala, Honduras, Mexico, Nicaragua, Panama, Paraguay, Peru, Portugal, Dominican Republic, Uruguay, and Venezuela have participated in the four editions of this training taught during the pandemic.