ANECA Issues its Favorable Report for the Institutional Accreditation of UNIR's School of Education
28 / 07 / 2020
The National Agency for Quality Assessment and Accreditation (ANECA) recognizes the excellent studies that UNIR offers, which has the largest School of Education in Spain.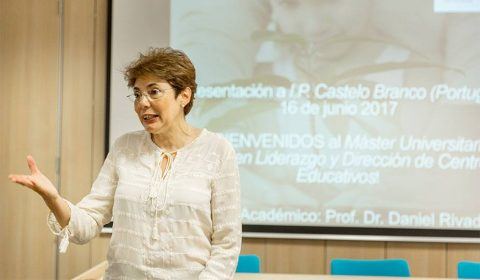 The International University of La Rioja's Faculty of Education has obtained a favorable institutional accreditation report from the National Agency for Quality Assessment and Accreditation (ANECA) in recognition of the excellent education they offer. UNIR was recently notified by this state body that oversees the quality of higher education.
For the Chancellor of UNIR, José María Vázquez García-Peñuela, "the accreditation from ANECA officially confirms that this university is doing things right, to a good extent because it has been equipped with an internal system that guarantees the quality of its academic procedures".
José María Vázquez García-Peñuela highlighted the fact that "it is the second Faculty of Education accredited by the National Agency for Quality Assessment and Accreditation, and the first to be part of a private university, which makes us value this achievement even more".
Vote of Confidence
Last October, ANECA awarded the same recognition to UNIR's Faculty of Business and Communications.
The institutional accreditation that depends on this body means a vote of confidence of the university for maintaining quality criteria and guidelines in its studies. ANECA guarantees students that UNIR provides quality education in all aspects, both in the curriculum and in the academic faculty. And it certifies, in particular, that the Faculty of Education provides students of all degrees with the necessary competencies for their professional development.
The Advisory Committee for ANECA's Institutional Accreditation was responsible for the evaluation, after having verified in the Register of Universities, Centers, and Degrees (RUCT) the accreditation renewal status of all the degrees of the center, as well as the validity of the Internal Quality Assurance System (SGIC) certificate of implementation. UNIR's Faculty of Education obtained the certification of its Internal Quality Assurance System (SGIC) last January, after passing the corresponding audit process.
The Largest Faculty of Education in Spain
UNIR's Faculty of Education is the largest education faculty in Spain by its number of students and teachers. It is also the one that offers the greatest number and variety of degrees accredited by ANECA, up to 21, between undergraduate and postgraduate degrees.
UNIR offers three degrees that are indispensable for teaching: the undergraduate degrees in Early Childhood Education and Primary Education, and the Master in Teacher Training for Secondary Education, Vocational Training, and Foreign Languages.
Through its Teaching School, the Faculty of Education also offers a wide variety of its own degrees for continuous teacher training in digital skills and advanced teaching methodologies that require the updating teaching methods.